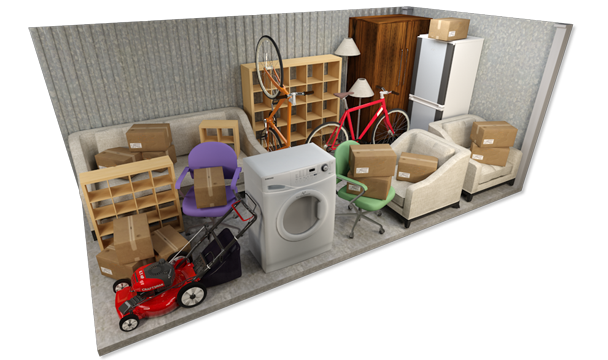 Plan before you start.  Always think about where you will position items in the unit, put the items you need to access more frequently at the front of the unit.
Prepare a map of your unit so you know where you have stored things or take pictures, those will come in handy later.
We suggest covering your furniture, mattresses, box springs with covers designed for them. Use all of your space up to the ceiling. Place heavy items at the bottom and stack lighter items on top.
Use boxes so you can stack your items easily. We sell these in the office for your convenience.
Use a step ladder so you can stack items above your head. We also sell step ladders in the office for your convenience.
Stack chairs seat-to-seat with towels or blankets between them.  Break down your furniture by removing any legs so you can optimize your space.
Use your refrigerator to store things inside. Be sure to leave the door open slightly so air will circulate.  Otherwise, mold can form inside.
Leave a little space between your items and the walls, so air can circulate.  Also, leave an area where you can walk to the back of your unit so you can access items later.
Place tools in an empty garbage can and stack cans together.
Remove all fuel from lawn mowers or other gas powered equipment to reduce any odors.
Moving can be a very exciting time for many of us, and moving can be too, but preparation is important.  By using helpful tips, you will feel more organized and knowing that you are placing your items in a secure facility with the most advanced security systems, can ease your mind.